What do roof rats look like?
Also called known as black rats or ship rats, roof rats (Rattus rattus) are approximately thirteen inches in length from the tip of their pointy noses to the end of their tails. They have slender bodies that are covered in smooth, sleek dark brown or black fur. They're also in possession of beady eyes.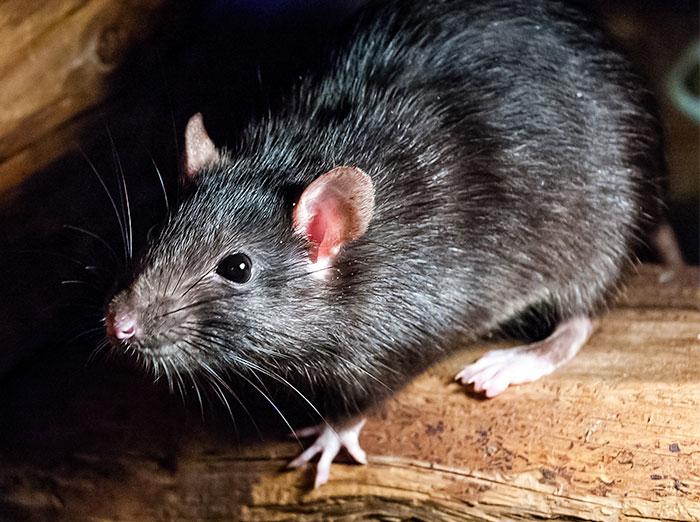 When are Roof Rats most active?
Very Active
Active
Not Active
Are roof rats dangerous?
Yes, roof rats are dangerous. These rodents can transmit salmonellosis via their droppings, rat-bite fever, and other serious illness/disease. They are also known to contaminate food, cause structural damage to homes and buildings by gnawing on electrical wires, insulation, and wood, and also damage personal belongings and other property. Roof rats may also introduce fleas and ticks.
How can I tell if I have a roof rat problem?
There are a few signs that you may have a roof rat problem, including:
Seeing live rats or dead rats on your property, typically in upper levels of homes and buildings
Finding rat droppings, which are small, dark, and shaped like a rice grain
Gnaw marks on wood, electrical wires, and other objects
Hearing scratching or gnawing noises in the walls, attic, or roof
Finding signs of nesting materials, such as shredded paper or fabric
What attracts roof rats?
Roof rats are attracted to areas where they can find food, water, and shelter. Common attractants include:
Cluttered yards or outdoor areas with unsecured trash or food waste
Standing water or leaky pipes that provide a water source
Overgrown vegetation and lush landscapes that provides shelter and a place to nest
Fruit trees
Open containers of pet food or birdseed
Dog feces
How do I get rid of roof rats?
For the best rodent control services in Hampton Roads, contact Getem Services today. Our locally owned and family-operated pest control company has been exterminating rats since 1922 and is ready to help Virginia property owners eliminate rodents from their homes and businesses.
How can I prevent a roof rat infestation?
Preventing a roof rat infestation requires eliminating the factors that attract them to your property. Here are some tips for preventing roof rats:
Keep your yard clean and free of clutter, including trimming overgrown vegetation and removing any standing water or leaky pipes
Store all food, including pet food and birdseed, in airtight containers
Seal all cracks and holes in your home's exterior to prevent rats from entering your home
Keep your home clean and free of clutter, including regularly vacuuming and cleaning areas where food is prepared or stored
Clean up pet waste in your yard regularly

Phillip was very courteous and thorough! Everyone from your company are always so nice!
Kenja G.
Get Help Now!
Request Your Free Quote