Protect your home from nuisance & destructive pests
If you've found insects and/or rodents in your home, reach out to Getem Services today. Our locally owned and family-operated pest control company has been delivering effective pest control services and exceptional customer care since 1922 and is ready to help you protect your home from unwanted guests.
Plan Details
Quarterly pest control services
When you sign up for Getem's residential plan, you'll receive quarterly pest control visits. During each visit, a fully licensed pest control professional will:
Knock down spider webs & wasps nests (up to one-story)
Create a barrier of protection around the perimeter of the house to stop pests from entering
Check & replenish bait stations, if necessary
Provide an interior treatment if there's a problem

Covered Pests: Ants, beetles, black widows, cockroaches*, centipedes, earwigs, fleas, mice, millipedes, rats, silverfish, spiders & springtails.
Plans starting as low as
$3999/mo
Free Quote Or Call Now! (757) 489-8610
*Plan excludes German roaches, termites, bed bugs, stinging insects, and ticks
Our Process
How we protect homes and families from pests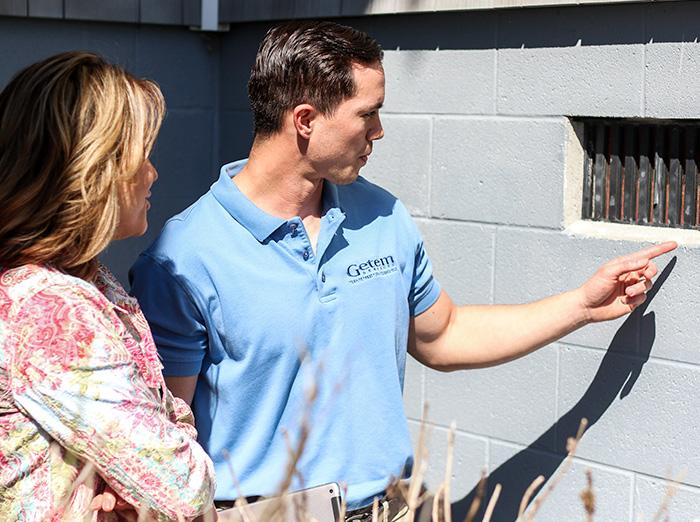 Initial Inspection & Treatment
When you reach out for help getting rid of ants, spiders, or other pests from your home, we'll start by having a conversation with you to find out where you're seeing activity and to gather any other information that will help us zero in on the problem. From there, we'll:
Conduct an interior and exterior inspection including the attic, if accessible, and the crawl space
Perform an initial interior and exterior service that targets existing pest activity
Treat around doors, windows, and foundation
Install exterior bait stations and interior ones if needed
Knock down wasp nests (up to one-story)
Sweep and de-web eaves

Ongoing Services
Since the majority of pest problems start on the outside, Getem Services will return every quarter to inspect and treat the exterior of your home. If there's a problem inside, we'll treat there too.
If a covered pest problem arises in between service visits, simply give us a call and we'll come back out to re-treat!

Phillip was very courteous and thorough! Everyone from your company are always so nice!
Kenja G.
Frequently Asked Questions
Home Pest Control FAQs
How much does home pest control cost?
At Getem Services, the cost of home pest control service is determined upon the size of your home and other factors. Please contact us today to find out how we can resolve your existing pest problem and prevent pests from infesting all year long and how much it would cost.
Do you offer one-time treatments?
We do offer one-time treatments but we highly recommend signing up for ongoing home pest control services in order to keep insects and rodents away all year long.
How long does it take for the pest control treatment to work?
After a treatment has been performed you may notice a slight increase in pest activity. That is normal and temporary. We're actually disrupting pest populations. It won't be long before you observe a drastic decline in the number of pests and with ongoing service, you don't have to worry about them coming back!
Get Help Now!
Request Your Free Quote