Don't let mice and rats damage your property
If you're hearing noises in ceilings and walls at night, have noticed rodent droppings in your home or business, or have discovered chewed belongings and wires and contaminated insulation, belongings, or stored products, there's a good chance mice or rats are trying to take over. For effective rodent control services that stop these destructive pests, Getem Services is the local pest control company to call!
Customized rodent control services
Rodent Inspection
When you contact Getem Services about getting rid of mice and/or rats, we'll start by performing a comprehensive inspection to determine the size, nature, and location of the infestation. Our highly-trained rodent exterminators are thorough and inspect both inside and outdoors, including, but not limited to the attic and crawl space. If there's rodent activity on your property, you can count on us to find it!
Upon completion of our rodent inspection, your pest control specialist will review findings, recommend a plan, and then we'll provide you with a rodent control quote.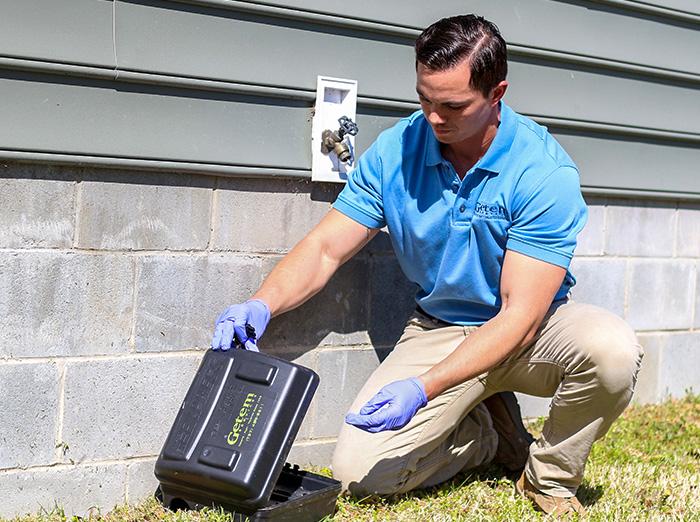 Rodent Control Solutions
When you partner with our team of experts we will implement a multi-step solution that uses a combination of removal methods to eliminate the existing rodent population and prevent new rodent activity from occurring. Our services are customized to your home or business but may include:
Installing interior rodent traps (including attic & crawl space)
Using exterior bait stations
Rodent exclusion services
After our initial service is complete, we'll return for three follow-up visits- one every seven days. Should you see or smell rodents in traps in between our follow-ups, simply give us a shout and we'll handle it.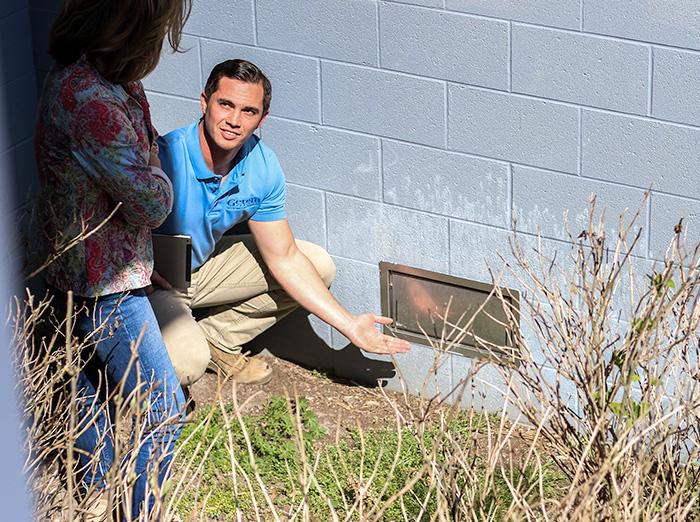 Rodent Exclusion
If, during our inspection, we notice potential entry points and other conducive conditions, we'll let you know and recommend exclusion services. Exclusion, or pest-proofing, consists of sealing up cracks, gaps, and other openings that mice and rats can squeeze through, including:
Foundation vents
Screen vents
Openings around pipes and utilities
Crawl space doors
Holes in the walls
And more!
Sign up for year-round protection against rodents & other house-infesting pests
In our region mice and rats, specifically roof rats, are a serious problem. As a result, homeowners may find themselves dealing with rodents on a regular basis. If that's the case for you, consider signing up for Getem's ongoing home pest control services that include quarterly services that target rodents and other pests.


Free QuoteOr Call (757) 489-8610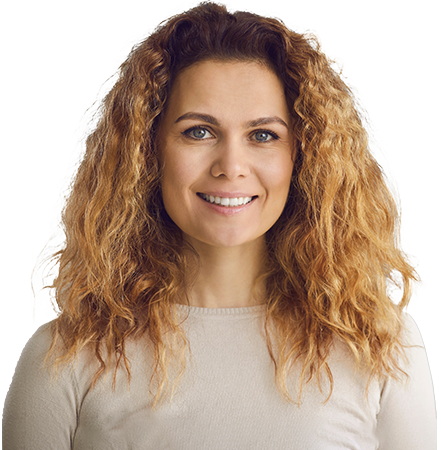 I have used Getem services for years for both myself and my clients. Customer service is great and Matthew Thomas has gone from great service to excellent service. His detailed reports gives me a better ability to inform and advise my clients on the situation regarding their property. I have and will continue to recommend Getem services.
Debra A.
Frequently Asked Questions
Rodent Control
Why are rodent infestations dangerous?
Aside from making you uncomfortable in your own home, mice and rats can actually endanger the health and well-being of your family by transmitting bacteria, contaminating food sources, biting, and scratching. What's more, they may cause property damage and could even spark electrical fires with their chewing.
How can I tell if I have a rodent problem?
There are many indicators that can help you recognize a rodent infestation including, but not limited to:
Rodent droppings or urine, especially around food packages, in drawers or cupboards, and under the sink
Indication of chewing and gnawing on food packaging
Holes chewed through walls or along floorboards
Musky odor coming from hidden areas or inside walls
Materials that can be used for nesting, such as shredded paper, fabric, cardboard, etc.
Chew marks on wood, cardboard, and other materials
Allergic reactions, as rat fur and droppings are common allergens
Seeing actual mice or rats in your home, often scurrying along the perimeter of rooms
If you have noticed any of these signs or need help trying to identify an infestation, please feel free to contact our team of local, experienced rodent exterminators.
What do rodents need to survive?
Mice and rats cannot live without food, water, or shelter. That's why homes in Norfolk, Chesapeake, and throughout our service area are so appealing. They provide everything rodents need to not only survive, but thrive!
Get Help Now!
Request Your Free Quote