October 6, 2023
Find Out How Mice & Rats Are Getting In Your House This Fall
Fall is officially here and although the foliage in the Hampton Roads region likely won't peak until later this month, and the crisp autumn air hasn't quite descended on us yet, residents should be preparing to see an uptick in rodent activity any time. In fact, we're already receiving reports of rats scurrying through garages and crawl spaces and have had numerous calls about both mice and rats inside homes in recent days. In today's blog, we'll explore why rodent activity surges in the fall, how to find out where they're getting in, and, more importantly, how to prevent these unwelcome visitors from making your home their own.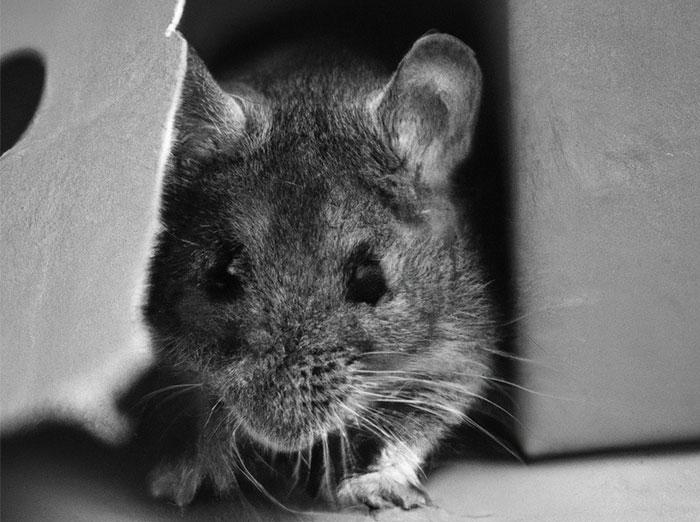 Why there are more rodent problems in the fall
To understand why rodents become more active during the fall in Norfolk, Chesapeake, and Virginia Beach as well as across Hampton Roads, it's necessary to consider the environmental factors at play.
Changing weather
As temperatures drop, rats and mice seek refuge from the cold. They're attracted to the warmth and shelter that your home provides, making it an ideal destination for the fall and winter months.
Food is becoming scarce
With the change in seasons, the availability of natural food sources dwindles. Rats and mice must look elsewhere for sustenance, and your pantry, garbage cans, and pet food storage offers a variety of options for these hungry rodents.
Rodents are still breeding
Even though the warm days are fleeting, and food sources are running out, rodents may still be breeding. In fact, female rats and mice can have multiple litters per year and are likely to reproduce all year round in indoor environments with a stable food source and suitable conditions.
How mice and rats get inside homes
Mice and rats are notorious for finding their way into homes and buildings by squeezing through small openings and are highly motivated to seek shelter, warmth, and food sources. Here are some common ways mice and rats can get inside homes:
Gaps, cracks, and openings
Rodents can fit through some incredibly small openings, as small as a quarter inch for mice and half-inch for rats. They often enter through gaps, cracks, and holes in foundations and walls as well as openings around doors and windows. Gaps around utility lines, pipes, and conduits are also prime entry points.
Attics and rooflines
Even openings along the roofline or attic are not exempt from being used as a way indoors, especially if there are tree branches touching the house.
Vents and chimneys
Uncapped chimneys, open vents, or damaged vent screens can provide rodents with easy access to the interior.
Open entry doors, garage doors and windows
If doors or windows are left open or have damaged screens, it's all the invitation mice and rats need to come inside.
In addition to the potential entry points noted above, we'd be remiss if we did not mention that rodents also hitch rides into homes inside boxes stored in sheds or outbuildings.
Preventing rodent infestations this fall and all year long
Now that we understand why rodents are drawn to homes during the fall, let's discuss some practical steps you can take to prevent infestations.
Rodent proof your home
The most effective way to prevent mouse or rat problems is to keep rodents out of your home. This can be accomplished by sealing entry points, repairing small holes, and covering openings.
Remove access to food indoors and out
Another key component in preventing rodent takeovers is to take away their access to food sources. Open garbage cans, dirty grills, food left out on counters, crumbs and spills on the floor, bird seed in the garage, pet waste in the yard, rotting fruit, and unharvested vegetables will attract rodents.
Maintain your yard
Trim overhanging branches and keep shrubs and bushes away from your home. Eliminate weeds and dense vegetation around your yard. Store firewood well away from the house and up off the ground. Clear away tires, old equipment, boards, pipes, and other clutter.
When to seek professional rodent control
If you suspect a rat or mouse problem in your home, don't hesitate to contact Getem Services. Our locally owned and family-operated pest control company offers rodent control in Norfolk, Portsmouth, and Newport News as well as in communities throughout Hampton Roads and the Tidewater region.
When you reach out for help getting rid of mice and/or rats, we'll start with a thorough rodent inspection. Much more than a cursory glance inside your home and out, we'll inspect both inside and outdoors, including the attic and crawl space. Our goal is to identify the culprit, determine the location and severity of the infestation, determine how they're getting inside, and pinpoint conducive conditions.
Upon completion of our rodent inspection, your pest control specialist will review findings, recommend a plan of action, and provide you with a rodent extermination quote.
How Getem Services eliminates rodents
At Getem Services, we use a combination of rodent control methods to rid homes of existing rodent populations and to prevent new rodent activity. While are services are customized to the specific situation, our initial service usually includes:
Setting rodent traps inside the home including the attic or crawl space
Installing exterior rodent bait stations
Providing rodent exclusion services
To ensure the entire all rodents have been eradicated, we'll stop by every seven days for a total of three follow-up visits. And if you see or smell rodents in traps in between our visits, just give us a shout!
For ongoing protection from rodents sign up for ongoing home pest control
While it's natural for rats and mice to seek shelter in Virginia homes during the fall, sometimes rodents are an ongoing problem. If your home is a magnet for rodent activity regardless of the season, consider signing up for Getem's quarterly home pest control services. Designed to protect against mice and rats, it also stops ants, spiders, and other insects from infesting. Check out the plan benefits below or simply give us a call to learn more!
Plan Details
Quarterly pest control services
When you sign up for Getem's residential plan, you'll receive quarterly pest control visits. During each visit, a fully licensed pest control professional will:
Knock down spider webs & wasps nests (up to one-story)
Create a barrier of protection around the perimeter of the house to stop pests from entering
Check & replenish bait stations, if necessary
Provide an interior treatment if there's a problem

Covered Pests: Ants, beetles, black widows, cockroaches*, centipedes, earwigs, fleas, mice, millipedes, rats, silverfish, spiders & springtails.
Plans starting as low as
$3999/mo
Free Quote Or Call Now! (757) 489-8610
*Plan excludes German roaches, termites, bed bugs, stinging insects, and ticks

Phillip was very courteous and thorough! Everyone from your company are always so nice!
Kenja G.
Get Help Now!
Request Your Free Quote